Board of Directors
To contact the Board Of Directors, please send your correspondence to the following address:
Board Of Directors
c/o Fountain Hills Sanitary District
16941 E. Pepperwood Circle
Fountain Hills, AZ 85268-2901
Send A Message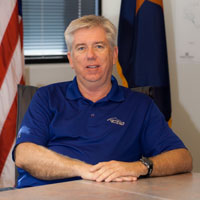 Thomas Reski
Chairman Of The Board
Mr. Reski is the founder and president of Quantum Integrated Solutions (QIS) an Engineering, Controls Systems and Computer Integration firm. QIS offers computer systems design/build as well as I & C controls design and integration solutions. Tom has been in the field of Electrical Engineering, Instrumentation and Controls for over 25 years. Tom has been on the Fountain Hills Sanitary District Board since March 2002 and has been a resident since 1995.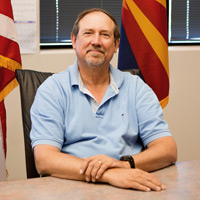 Gregg Dudash
Vice Chairman Of The Board
Gregory M. Dudash worked in the field of wastewater treatment for 27 years at the Metropolitan Water Reclamation District of Greater Chicago (MWRDGC). The last few years of his employment were at the district's Stickney Water Reclamation Plant, the largest wastewater treatment plant in the world. After earning a master's degree in Human Resources from Loyola University of Chicago, Gregg was initially hired to work in the HR department. But with his love of technology, he eventually transitioned into a computer systems administrator, working with and supporting all of the various departments at the MWRDGC.
Although Gregg spent 30 years in the Windy City, he was born and raised in Pittsburgh, PA. He attended Duquesne University in Pittsburgh, earning two degrees from that institution.
Gregg retired in April 2013 and moved to Fountain Hills later that year. He became a member of the Fountain Hills Sanitary District Board of Directors in March 2015 and won re-election in 2017.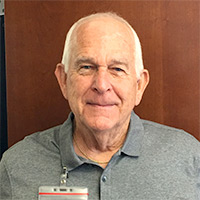 Jerry Butler
Board Member
Jerry Butler has been a year-round resident of Fountain Hills since 1999 and a community volunteer. Prior to retirement from a 40-year career in Civil Engineering, he was registered as a Professional Engineer in 18 states, Division President of an international consulting firm of architects, engineers, and planners, and Past-President of the Consulting Engineers Council of Missouri.
Volunteer activities in Fountain Hills include serving on the community's first Strategic Advisory Planning Commission (SPAC); a member of the Downtown Visioning Project and later the Chair of its Greening of Downtown program; a member of the Chamber of Commerce's Business Vitality Advisory Council (BVAC); and Co-Chair of the VisionFH program. Currently Jerry serves as Treasurer of the Fountain Hills Cultural and Civic Association (FHCCA) and continues to promote the community's strategic planning initiatives.
Jerry was appointed to the Fountain Hills Sanitary District Board of Directors in October 2016.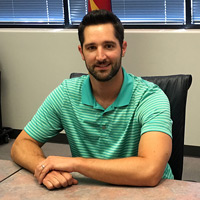 Michael Maroon
Board Member
Michael J. Maroon has lived in Fountain Hills since 2013, when he moved here from Overland Park, Kansas. He has served his clients as a Financial Advisor since 2011 with Edward Jones and runs a branch office in town. Prior to making the career shift to Edward Jones, Michael served as a Congregational Care Pastor at the United Methodist Church of the Resurrection, the largest United Methodist church in the country located in Leawood, Kansas. He served that 15,000 member congregation in a number of various capacities during his time there.
Michael holds a Bachelor of Science degree in Business Administration from the University of Kansas and a Master in Divinity degree from Saint Paul School of Theology. He also holds the Accredited Asset Management Specialist (AAMS®) designation through the College for Financial Planning and is presently working towards the Certified Financial Planner designation.
Michael joined the Board of Directors in July of 2017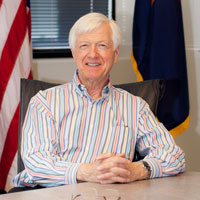 Bob Thomson
Board Member
Robert E. Thomson has more than thirty-five years in practice. He concentrates on estate planning and wealth preservation with the firm of Jekel, Howard and Thomson LLP. Previously he was a member of the management committee of one of the nation's largest law firms and head of its Los Angeles office, the Chief Deputy Los Angeles City Attorney, and a senior officer of a New York Stock Exchange company. He is also admitted to practice in California where he served for many years as Vice Chairman of National Mercantile Bancorp, a multi-bank holding company. In Fountain Hills where he has lived since 1994, Mr. Thomson is the past Chairman and a current Board Member of the Fountain Hills Sanitary District, a Board member of the River of Time Museum Foundation and a Board member of the Senior Services Foundation. He was honored in 2010 by admission to the Lower Verde Valley Hall of Fame for his extensive volunteer work and community service.