Lab
The Fountain Hills Sanitary District has a laboratory which is certified by the Arizona Department of Health Services. The District employs two full time staff persons who sample and test water/wastewater samples from the various unit processes. The District also utilizes the services of outside laboratories to test samples for certain constituents.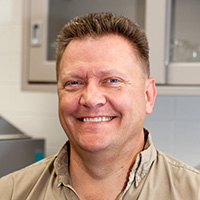 Jim Boerst
Laboratory Supervisor
Send Me A Message
Jim joined the Sanitary District in July 2007. With an Associate degree in Natural Resources Technology, he has over 25 years of Environmental Laboratory experience. Jim has overseen state and national laboratory accreditations in Arizona, Wisconsin, and numerous states under the national program-(NELAC).
Jim is responsible for performing and/or overseeing the performance of experienced professional work in the chemical and microbiological analyses of wastewater and reclaimed water at the wastewater treatment plant, advanced water treatment facility, as well as ASR and monitor wells.