Manage My Account
Please notify our office with any changes to a mailing address, phone number, or email address to keep your information up to date.  If you receive E-Bills only, your current mailing address is still necessary to keep our records up to date.  Provide the updated information by calling our office at 480-837-9444 or by providing changes here.
To view current/past invoices and payment history, click here.
The Sanitary District uses a Book and an Account number to identify your account.  You can find your book and account number on your bill.  The first location is on the upper right corner under the bill date.  It is repeated on the left, near the center of the page, above the service address.  If you do not have a bill to reference, contact our office so we may assist you.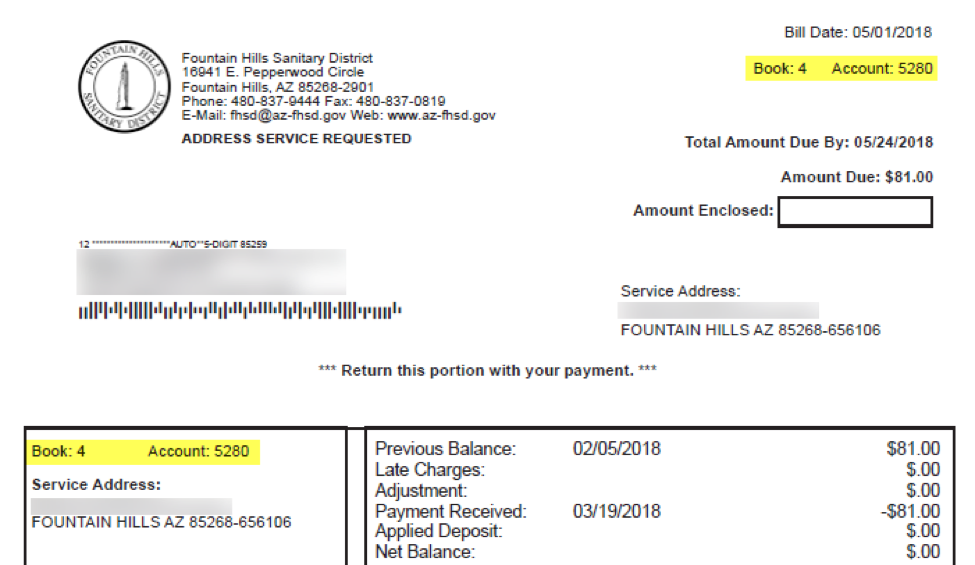 New Account
Fountain Hills Sanitary District treats, collects, and recycles the wastewater in Fountain Hills.  If you have recently purchased property in Fountain Hills, please contact our office at 480-837-9444 or click here to establish a new account.  Sewer service is separate from water and garbage collection.
EPCOR - Water Service
Toll Free: 1-800-383-0834
Email: mywater@epcor.com
12021 N. Panorama Drive
Fountain Hills, AZ
https://www.epcor.com
Republic Services - Garbage
4811 W. Lower Buckeye Road
Phoenix, Arizona 85043
602-237-2078 or 800-833-4316
602-237-2641 fax
https://www.republicservices.com
Seasonal Residents

Fountain Hills is home to many seasonal or part-time residents.  Sewer service is not "turned on or off" as other utilities such as water, gas, or power.  The flat rate fee for residential sewer service is billed to property owners regardless of usage or occupancy.  User fees are collected to fund the operation and maintenance of the vital sewer infrastructure throughout the Town of Fountain Hills, in addition to the collection and treatment of wastewater in the Treatment Plant.
Fountain Hills Sanitary District offers options for billing and payments convenient for seasonal residents.  E-Bills are an option to receive your bill electronically via email, free of charge.  Click here for more information.
Auto-Pay is a service that will ensure your quarterly sewer user fee bill is always paid on time.  The balance due is deducted from your bank account on the quarterly due date.  Auto-pay is a free service for customers.  No late payments or postage costs.  Click here to print the form and mail it to our billing office to sign up, or click here to enroll directly from the website.